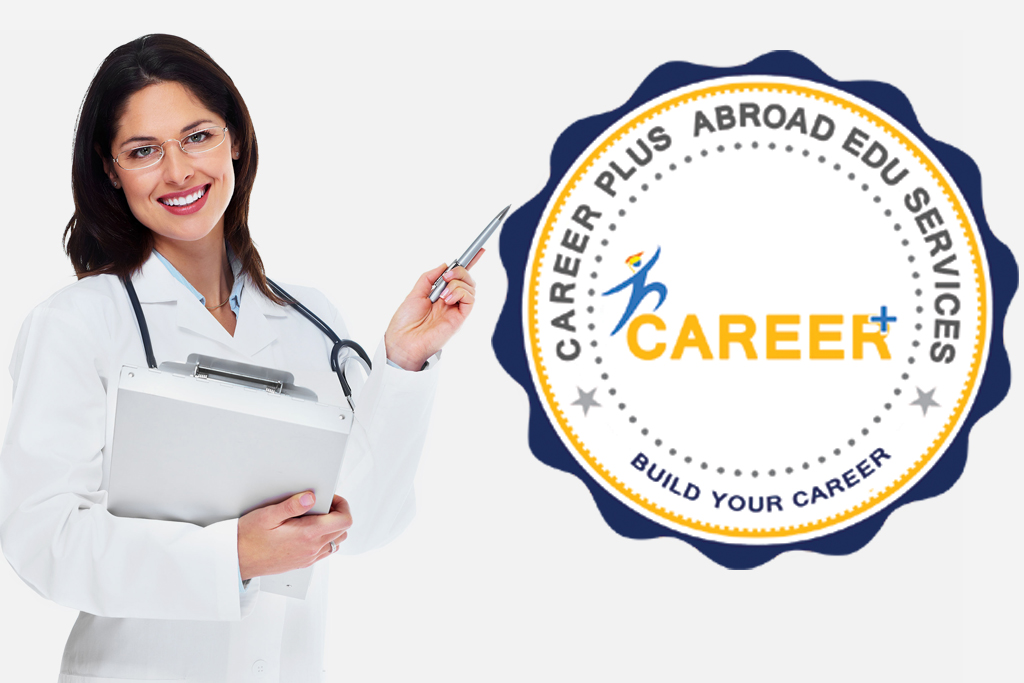 FREE CAREER COUNSELING
Career plus Abroad Edu Services provides free career counseling to the students & parents via telephonic or personal meeting at their Hyderabad and other branch offices. Students get confused about selecting the destination or university after their 10+2 because today there are many options available for making a successful career. If you are confused about which Career to choose, Career plus guides you through the jumble of questions to find solutions best suited to your profile and / or parameters ensuring you to choose the best career path. Our counselors are highly skillful and have extensive experience in guiding students for their medical education abroad. After understanding individual profile, their interests and the present competitive market scenario, we help students to make the best career choices. The volume of information on the internet is a blessing and a curse too. You may be inundated with articles to read and things to do but can you rely on them and take decision? However nothing is truly tailored and everything is a generic advice. So, you require experts like Career plus for guiding your career properly in the right direction. We are experts in MBBS and we have 8+ years of experience in this field. Students we guided to study MBBS abroad are now well settled. Such is our counseling methodology. Applying for higher education abroad is a huge decision, both financially and emotionally. It is mandatory to invest adequate time and effort in order to make the right decision. Our trained staff offers help to identify the professional goals, enabling the student to take a wiser academic decision, and gives personal guidance to help choose courses that perfectly fit your career or personal goals. So, choose us to become successful both personally and professionally.
PRE DEPARTURE BRIEFING
Career Plus Abroad edu Services organizes Pre-Departure sessions / get together for students before they depart. We feel this is one of the most important sessions in the whole process. We get the opportunity to share with students about their new destination, new culture they are going to face, about the institution they are enrolling for and also making them aware of Do's and Don'ts while they settle themselves in totally a new environment. This not only allows them to get more confidence but also adjust better in the institution and hence has better performance in the programs of study. The Pre-Departure orientation is an important step in ensuring a successful experience in study abroad program. It gives students an opportunity to understand many realities of future life. Student gets details about their study designations, life abroad and expectations they have in mind. Other important things, they get information about travel, logistics, health and safety issues, lodging and meals, standards of conduct, travel insurance and more.
Students also get an opportunity to ask questions and clarify any concerns they may have about their future in foreign land. In addition to providing logistical information, the Pre-Departure briefing helps students set realistic expectations and goals. It also affords students and parents the opportunity to ask questions to clear their doubts. The goal of this orientation is to help introduce students to their new city, country, host family, and classmates. Pre-Departure orientation at Career plus Abroad Edu Services is designed to help students successfully transit to a new culture by giving them important information. Our Pre-departure seminars are the best ways to get complete knowledge, guidance and experiences about abroad before you fly. These briefings endeavor to prepare each and every student effectively for the environment he/she is going to get exposed to, when attending university overseas.
ADMISSION GUIDELINES
After free career & admission guidelines to select the right Course, University and Country with regard to the grades, location, budget, etc. We guide and provide information to students and parents during the crucial fold of their wards life in achieving career goals and personality enhancement in this competitive & busy world. Arrange guaranteed admission in your desired University/ Course. Not only information, we provide guaranteed admission in case all the eligibility criteria and deadline requirements are met. Admission guidance from Career plus team is excellent! We give special attention to your application, highlighting the areas essential for a well-presented, error free application. We assist with references and the 'all-important' Statement of Purpose. We assess your English and the Universities admission committees many a times consider our recommendations. Career plus expert team follows up with the chosen Universities and ensures positive and quick response. We have comprehensive information prospectus, brochures, and CD's & application forms.
All documentation and other formalities for the admission on behalf of students are efficiently completed by our skilled staff. We also assist with the basic requirements for application process. Our counseling is free for MBBS in few states which we would love to say you all. Visit us for getting complete knowledge on how we go further; what is the procedure and more details. As we mainly are dealing with MBBS study abroad, we have got immense experience in this field. Our 8+ years of experience has helped 650+ students reach to 20+ universities in 6 countries. Students who went to pursue their abroad education through us are now well settled. Some are pursuing their MBBS and are very happy with Clinical rotations and other things. It's a boon to find a consultancy like Career plus. So, get complete admission guidelines and make your MBBS abroad dreams come true with ease.
VISA ASSISTANCE
A visa is an entry clearance, which gives permission to an entity to enter into a non-native country. Students require a student visa to enter into a foreign nation to stay for the purpose of study. High visa success rate of Career plus helped numerous Indian students to enter varied universities across the globe every year. Till now, we have assisted 650+ students to pursue their dream of studying abroad. We sent students to 20+ universities in 6 countries. We have been doing this successfully since the past 8+ years and we will continue to be.
We assist our students in the entire Visa processing, right from filling up application, preparing financial statement, providing guidance and conducting mock interviews. We are in touch with the consulates on a regular basis and are informed about the latest rules and changes in visa documents which results in our extremely high visa success rate. Our services include translation, immigration plan arrangement, document preparation & submission, accompany & delivery service etc. We help in assisting guaranteed visa & complete all visa related formalities, through getting visa letter & its supporting documents from foreign government/embassy. We are the one-stop destination for everything related to abroad MBBS education. Our students after reaching abroad call and appreciate our amazing efforts. Every country has a different process and procedure for visa filing Career plus Consultants assist students with the adequate information based on country to country. The glaring mistake that majority of the students make filing their papers is of applying with the same old documents of rejected visas. At Career plus, we guide students with the clarity and all the check list information is available at our offices. We are regularly advised by the consulates about the latest Visa documentation and rules and have a success rate of over 99%. Visa Assistance is free for all students who go abroad through us.
POST ADMISSION ASSISTANCE
Career Plus Abroad Edu Services takes care of you every student who is going to abroad. Once you have landed abroad, our counselors, many with firsthand experience, will help you choose the best option out of our tried & tested resources with regards to airport pick-ups, accommodation, insurance, foreign exchange, medical provisions, etc. We take care of each and every minute detail and help our students settle in no time. Receiving at Airport Our executives/caretakers/University team receives students at airport, when they reach the airport. Accompany Student to University & help in Settling Down at No Additional Cost Our executives/caretakers accompany students till the university campus and help them in all possible ways in their settlement until the university provides them hostel rooms for accommodation. Students' Registration at the University The University registration formalities are assisted by our executives
OUR SERVICES & FEATURES
Free counseling for the right university and country to meet your budget.
Guaranteed admission if you meet eligibility criteria & submit documents in time.
Admission letter from university.
Invitation letter from the university
Advise on Passport application process.
Visa Documentation
Guidance in Delhi for visa interview.
Complete documentation and visa with all the requisite inputs.
Filling for MCI Certificate of eligibility in India.
Booking tickets for their further visit as and when need arises.
Airport pickup, escort to university,Assistance with setting in.
Accommodation arrangement in/ out campus hostel.
Personally admit the student into respective colleges.
Student id card, hostel id card, international student card etc.
Open bank account.
Providing regular progress report to the parents.
Guidance for appearing screening test and getting MCI registration.
If you have any questions our executives are always there to help you 24/7.
Quality of education is assured by internal and external quality assurance mechanisms.
OUR SERVICES
Communication and liaisoning with the abroad universities on behalf of the students including processing of the Admission Form and applying on behalf of the student.
Providing information Booklets containing complete details about the study of Medicine Courses in the Medical Institutes abroad.
Arranging of Admission Letter/Invitation to study from the abroad Medical Universities under confirmation from the Ministry of Education.
Processing of students VISA covering the Visa formalities including visa fee.
Guidance/Assistance in procuring the medical test certificate required by the university and the medical insurance for the issuance of the visa.
Necessary attestation of S.S.C/inter (10+2) certificates in the Ministry of External Affairs, New Delhi.
Providing the application form for obtaining Eligibility Certificate from Medical Council of India free of cost, and necessary guidance /assistance in obtaining Eligibility Certificate.
Guidance /assistance for expediting Passport application.
Guidance/Assistance in arranging of Educational loans from the Nationalized Banks.
Assistance in obtaining foreign exchange for paying of fees.
Free counseling session for students/parents/guardians including organization of interactions with practicing doctors in India with medical degree from abroad.
Providing Registration facility to block a medical seat, for a maximum of two weeks period, due to limitation on numbers.
Forming Batches and organizing their travel arrangements.
Organizing the mandatory medical check viz., HIV medical test as per the requirements of the embassy.